Overview
Blue Waters & The Cove Suites
Antigua
Star Rating *****
If you're looking for a break from the fast pace of everyday life, or just a perfect place to unwind and soak up the sun, relax at Blue Waters. On the boarder of two beaches, this award winning, family friendly resort is nestled on 17 acres of tropical gardens.
With views of picturesque waters, stunning beaches, bars and restaurants and just a five minute walk to the Cedar Valley Golf Course, there really is something for every mood.
Facilities
Facilities
3 restaurants
3 bars
Beauty salon & spa
7 swimming pools & a jacuzzi
Fitness centre and tennis court
Babysitting services & Children's activity programme
Live entertainment
Watersports, sailboats, windsurfing, kayaks and snorkelling
Kid's club and creche
Accommodation
Accommodation
Rooms: Consists of 75 elegant, spacious guest rooms and suites plus 3 villas.
Superior Hillside Room - Elegant hues of mahogany with views of the resort gardens. Each features a king or two twin sized beds and ensuite bathroom.
Deluxe Beachfront Room - Located next to the beach, each room features a king or two twin beds and an ensuite.
Cove Suite - Suite combines modern luxury with classic beach living, includes an open plan living area and bedroom with ensuite.
Pelican House - Overlooks the caribbean Sea, available in three or six bedrooms. Each villa has three spacious bedrooms, ensuite bathrooms, fully equipped kitchen, private patio or balcony, swimming pool and dining room.
Hillside Villa - Hotel gardens view, with private patio or balcony. Each has a spacious living area, bedroom with either one king or two double twin beds plus ensuite bathroom.
Hillside Junior Suite - Open Plan living area and bedroom with an ensuite bathroom.
Cove Penthouse - Features separate living area, dining area, kitchen, three bedrooms, each with ensuite bathroom and a private balcony.
Turtle Cottage - With a private patio or balcony, views of the ocean and surrounding nature. Decorated in contemporary beach decor, with expansive living area, kitchen, four bedrooms with kingsized beds, ensuite bathrooms and private swimming pool.
Rock Cottage - Expansive accommodation and stunning views of the Caribbean Sea. Available with wither two or five bedrooms, featuring a kitchen, living area and plunge pool.
Luxury Suite - dramatic sea views from a private balcony, separate living room, spacious bedroom and ensuite bathroom.
Hand Picked By
When you visit the Caribbean it's easy to see why so many clients return: it has its own special personality and unique feel.
Mandy Phillips
Latest from our Travel Experts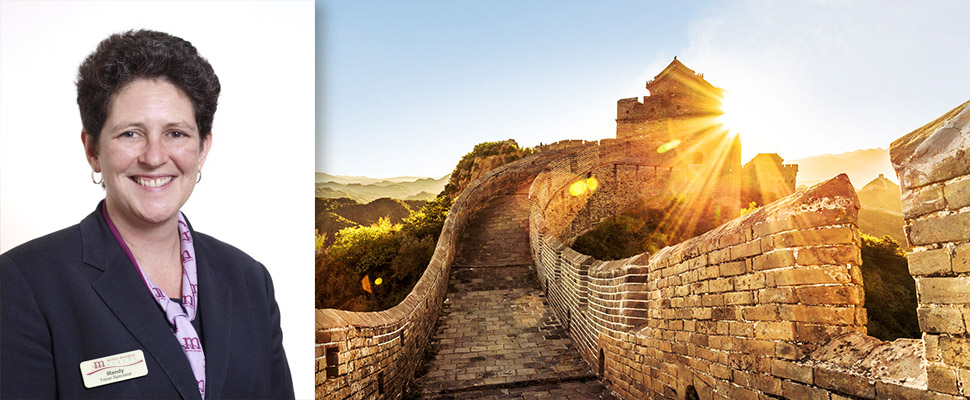 I have just returned from a trip of a lifetime to China, with Wendy Wu. Its been on my "to do" list for quite a while, so I was really...
Read More