Great Cities of Eastern Canada
Overview
Great Cities of Eastern Canada
Join us for a unique tour of eastern Canada's great cities and rugged beauty, beginning in Toronto.
Experience visits to the iconic Niagara Falls, the stately capital Ottawa, and the classic architecture of Québec City. In contrast you will see the amazing natural beauties that the Atlantic coast and Nova Scotia has to offer, there's really something for everyone.
What's Included;
13 nights in a hotel and 1 in flight
City tour of Toronto
Full-day excursion to Niagara Falls
Thousand Island cruise
City tour of Ottawa
City tour of Montréal with local guide
City tour of Québec City with local guide
Kings Landing and Fredericton
Hopewell Rocks
Alexander Graham Bell Museum
Cabot Trail
City tour of Halifax
Peggy's Cove and Lunenburg
Titan's VIP Home Departure Service®
Check-in service by Titan staff
Exprienced Titan tour manager
Scheduled direct Air Canada flights
All airport taxes, security charges and applicable fuel surcharges
UK Air Passenger Duty (APD)
Full Itinerary
Day 1 – London to Toronto
Today you'll be picked up from home, by Titan's VIP Home Departure Service®, for your journey to London Gatwick Airport and beyond. Once you arrive in Toronto, you will be transferred to Sheraton Centre Hotel, where you will stay for the next three nights.
Day 2 – Toronto
This morning you can enjoy a sightseeing tour of Toronto, where you will see some of the 19th century buildings, alongside glistening skyscrapers.
The remainder of the day is yours to explore at your leisure. Maybe pay a visit to the Observation deck of the CN Tower, where you will see far-reaching views of the city from all angles, with the 500m high and partially glazed floor.
Day 3 – Niagara Falls
Today you will pay a visit to the spectacular beauty of Niagara Falls. See the picturesque parkland setting, and the awe-inspiring power of the falls as you visit this true icon of world travel.
Here you can also take an optional boat excursion on the base of the waterfalls. Next stop is Niagara on the lake, where you will find a charming 19th century village on the bank of Lake Ontario, before heading back to Toronto for the evening.
Day 4 – Toronto to Ottawa
Moving along, you will follow the north shore of lake Ontario to Rockport. From here you will enjoy a cruise around the beautiful Thousand Islands, which are surrounded by the St Lawrence River. Admire the scenic views and historical estates before continuing on to Ottawa where you will stay for the night.
Day 5 – Ottawa to Montréal
Back on the coach you will be taken around Ottawa and shown some of the highlights of this striking capital city, including parliament buildings and parks, before departing for Montréal.
Situated in a lovely spot at the confluence of the St Lawrence and Ottawa rivers, you will check into your hotel for the next two nights.
Day 6 – Montréal
Today you will enjoy a guided tour of one of Canada's oldest cities, Montréal. Familiarise yourself with the rich history of Canada's second largest city, founded over 350 years ago. Then explore for yourself with some free time. You could stroll through the Old city, visiting the Notre-Dame Basilica and Old Port, or wander through the wooded areas by the lakes of Mount Royal Park. The possibilities are endless.
Day 7 – Montréal - Québec City
This morning you will leave Montréal and head to Québec City, to enjoy a sightseeing tour with a local guide. Referred to as North America's fine-dining capital, there is no shortage of places to eat. Whether you wish to experience an evening of luxury and elegance with some fine dining, or a more casual meal at a pavement cafe or bistro, there's really something for everyone. Admire the city's great classical architecture and lifestyle as you spend the next two nights here.
Day 8 – Québec City
Enjoy a day of leisure today and explore this enchanting city in your own time. Pay a visit to the historic Chateau Frontenac, now a renowned top-class hotel, or even take a leisurely ride on a horse-drawn carriage. Also worth a visit is Old Québec, a UNESCO World Heritage Site, including grand gates and a walled city, which opens up onto picturesque cobblestones streets and an open-air art gallery.
You could even take advantage of an optional full-day excursion to Tadoussac, where you can enjoy a whale watching trip.
Day 9 - Québec City to Edmundston
The journey continues as we depart Québec City and head towards one of Canada's three Maritime Provinces, New Brunswick. As you arrive in Edmundston, you will be transferred to your hotel.
Settled along the St John River in the northeastern Appalachian Mountains, this new city is surrounded by an incredible valley. Here you can explore the New Brunswick Botanical Gardens or even the historical and cultural attractions on offer.
Day 10 - Edmundston - Moncton
Next on the agenda, you will head towards Moncton, but with a stop at Kings Landing Historical Settlement along the way. Just outside the capital city of Fredericton, this living historical site will make you feel like you've stepped back in time to the 19th century, as you admire the preserved original homes of the United Empire Loyalists. With over 70 historic buildings on 300 acres along the banks of St John River, this is definitely a highlight for history buffs and those wishing to experience the fascinating culture of the 1800's.
Making your way into Fredericton, you will pay a visit to the Historic Garrison District, which is now a National Historic Site. Browse the site for local artisan and craft shops, as well as the Beaverbrook Art Gallery, which features works by not only Canadian and British artists, but other international artists as well.
Day 11 - Moncton to Baddeck
Today you will set off for Baddeck, where there will be no shortage of amazing photo moments as we stop off at Hopewell Rocks. You will be amazed as you walk on the ocean floor among giant rock formations, where the highest tides in the world are most evident.
In the afternoon you can enjoy an included excursion to the Alexander Graham Bell Museum, which contains the largest collection of Bell's artefacts and inventions.
Day 12 - The Cabot Trail
Ever wanted to see the wilderness home to moose, black bears and bald eagles, in the comfort of a peaceful coach? Well today you can as we take the 185-mile circular route of Nova Scotia's Cape Breton Island on The Cabot Trail. You will spend most of the day driving the scenic trail, passing through the Cape Breton Highlands National Park and enjoying beautiful views of parks and coastline, carving through the valleys and hillsides.
Day 13 - Baddeck to Halifax
This morning you will travel to Halifax, the capital of Nova Scotia. Situated on one of the world's largest natural harbours and steeped in seafaring history and tradition, you will take an included tour before arriving at your accommodation for the night.
Day 14 - Peggy's Cove and Lunenburg
Leaving Halifax, you will travel to the quaint little fishing village of Peggy's Cove. Moving along you will also make a stop at Lunenburg, a colourful port town and UNESCO World Heritage Site.
Here you will enjoy an included farewell dinner at a restaurant, with time to freshen up before you are transferred to the airport ready for your flight back to London.
Day 15 - London
As you arrive back in London, you will be met by a Titan representative, who will guide you to your Titan vehicle and take you right back to your front door.
Hand Picked By
Overall I had a fantastic trip with Titan Tours, the knowledge of the tour guides are second to none and the warmth and hospitality of the Titan representatives and guides shine through. Nothing beats starting your holiday from your on front door. All Titan tours come with their VIP home departure service included.
Abby Limm
Latest from our Travel Experts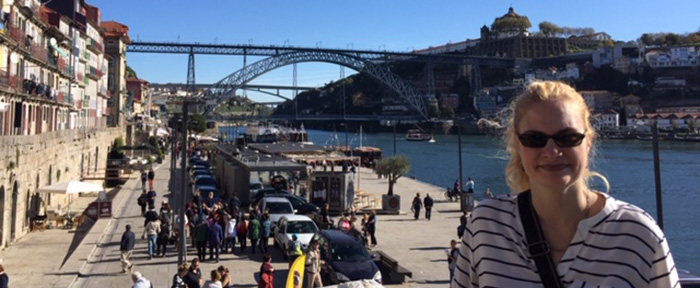 I have just returned from an amazing trip with Riviera Travel upon their Solo Tour 'Portugal's Douro Valley and Lisbon'....
Read More