Sicily Jewel of the Mediterranean
Overview
Sicily Jewel of the Mediterranean
Sicily, at the geographical and historical heart of the Mediterranean, has been coveted, fought over and colonised for millennia.
As such, the island presents a unique culture, best exhibited in its architecture, language and cuisine, which bears the stamp of the Phoenicians, Athenians, Romans, Arabs, Normans, Byzantines and Bourbons.
This comprehensive 10-day exploration introduces you to Sicily's best-known treasures, including its superbly well-preserved Greek temples, legendary Mount Etna and splendid Monreale Cathedral.
What's Included:
9 nights in hotels (accommodation as specified or similar)
16 meals: 9 breakfasts (days 2-10) 7 dinners (days 1, 2, 4 and 6-9)
VOX portable audio headset system on excursions
13 included excursions and visits
Guided tours of Syracuse, Segesta, Selinunte, Valley of the Temples, the Roman villa at Piazza Armerina, and Taormina (including Greek theatre and Alcantara Gorge)
Visits of Aci Castello, Catania, Cefalù, Monreale, Palermo and Mount Etna
Wine tasting at Cantina Murgo
Plus all these benefits
Titan's VIP door-to-door travel service
Services of a Titan tour manager
International flights (prices are based on return flights with British Airways from London Gatwick. Supplements may apply from other airports)
Best available coaches with experienced drivers
Porterage
All airport taxes and duties
Full Itinerary
Day 1: UK - Catania
Titan's VIP door-to-door travel service collects you from home, for your flight to Catania. On arrival we drive to our hotel for the next three nights, the UNA Hotel Palace (4T) or Katane Palace Hotel (4T), where dinner is included this evening.
Day 2: Syracuse - Ortigia
Today we travel south with our local guide to Syracuse, rich in Ancient Greek history. Later we visit Ortigia, a small island joined to Syracuse by a bridge since the 16th century, but its past goes further back and it is a pleasure to explore the narrow medieval lanes. Dinner is included at the hotel.
Day 3: Aci Castello - Catania
This morning we travel to Aci Castello, whose 11th century Norman castle is built out of lava, before moving on to Catania, Sicily's second largest city, and its beautiful historic centre shaped by Mount Etna's temper. You are then free for the rest of the day.
Day 4: Catania - Cefalù - Palermo
We spend some time in the attractive maritime town of Cefalù this morning on our way to the bustling city of Palermo. Our hotel, the Hotel Palazzo Sitano (4T), is centrally-located, close to the sea and the lively streets. Dinner tonight is at a local restaurant, just a short walk away.
Day 5: Monreale - Palermo
Today we travel to Monreale for a guided visit of the magnificent cathedral, famed for its multi-coloured marble paintings and mosaics. We return to Palermo for a guided tour of the town.
Day 6: Palermo - Segesta - Trapani - Selinunte - Agrigento
Our first stop today is Segesta for a guided tour including a visit to the fascinating Greek temple ruins. We then continue to the fishing port of Trapani. Lastly, at Selinunte we will be joined by a local guide to view the Greek archaeological site. We arrive early evening at the Hotel Baia di Ulisse (4T), where dinner is included.
Day 7: Agrigento - Valley of the Temples - Piazza Armerina - Giardini Naxos
We start our day with one of the highlights - a guided visit, including entrance, of the nearby Valley of the Temples. After time for lunch, we head east to Piazza Armerina for a guided tour of the Roman Villa. We stay at our hotel for the next three nights, the Sant Alphio Garden Hotel & Spa (4T) or similar.
Day 8: Taormina
Our walking tour visits the cliffside town of Taormina and its Greek theatre, before we journey to nearby Alcantara Gorge.
Day 9: Mount Etna
This morning we take a drive to the slopes of Etna. After a short walk, there will be free time available to explore this fascinating area. Later we visit Catina Murgo winery for a tasting of wine and local produce. Return to our hotel for a farewell dinner.
Day 10: Giardini Naxos - Catania - UK
We transfer to the airport for your return flight to the UK. Upon arrival, your Titan vehicle will be waiting for the journey home.
Hand Picked By
Why choose Titan? Because from the moment you step outside your front door, boarding their renowned VIP door-to-door service, you will see they ensure that when you travel with them, you'll enjoy the holiday of a lifetime. Having experienced Sicily's Jewel of the Mediterranean first hand, I can promise you that everyday will be a highlight.
Amy Corran
Latest from our Travel Experts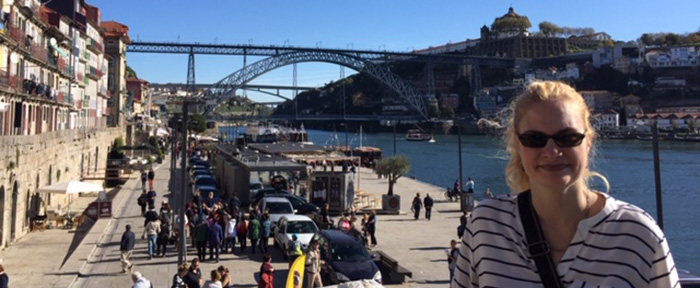 I have just returned from an amazing trip with Riviera Travel upon their Solo Tour 'Portugal's Douro Valley and Lisbon'....
Read More