California and the Golden West
Overview
California and the Golden West
The Mamas and the Papas' 1965 hit California Dreamin' neatly encapsulates the attraction of the 'Golden State'. From gold rush pioneers to film industry starlets, the optimistic, the adventurous and the ambitious have made their way to California in search of fame and fortune for two centuries - the epitome of the American Dream.
This very popular tour introduces great cities such as Los Angeles and San Francisco, iconic stretches of Pacific coastal road and Route 66, and the bewitching expanse of Yosemite National Park, along with the highlights of neighbouring states - the awe-inspiring Grand Canyon, the Wild West landscapes of Arizona and the extraordinary Las Vegas, America's playground.
What's Included:
Return flights
14 nights in hotels and 1 in flight (accommodation as specified or similar)
Tour of Hollywood
Tour of San Diego with local guide
Visit to the artist colony of Sedona
Entrance to the Grand Canyon National Park
Williams Depot and shoot-out re-enactment
Visit to the Hoover Dam
Visit the Old Silver Mining Town of Calico
Entrance to Yosemite National Park
Tour of San Francisco including the Golden Gate Bridge with local guide
17 Mile Drive the beautiful coastal route
Stops at Carmel and Monterey
Big Sur coastline drive
Santa Barbara
Titan's VIP door-to-door travel service
Free connecting flights from regional airports
Check-in service by Titan staff with porterage
Services of an experienced Titan tour manager
Scheduled Virgin Atlantic direct flights
Best available coaches with experienced drivers
Hotel porterage (one bag per person)
Airport taxes, security charges and fuel surcharges
UK Air Passenger Duty (APD)
Full Itinerary
Day 1: London - Los Angeles
Titan's VIP Home Departure Service® transports you from your front door to London Heathrow Airport in time for a direct, scheduled Virgin Atlantic flight to Los Angeles. On arrival, we transport you by coach south to San Diego and our hotel for two nights, the Sheraton Hotel and Marina.
Day 2: San Diego
A morning tour introduces the attractive harbour city of San Diego, with stops at the National Historic District of the Gas Lamp Quarter, the picturesquely reconstructed Mexican-style old town and Balboa Park - 1,400 acres of landscaped grounds home to several fascinating museums. The afternoon and evening are at leisure to make your own explorations and sample one of San Diego's superb restaurants.
Day 3: Palm Springs - Scottsdale
We travel from California to Arizona by way of cactus-studded landscapes reminiscent of countless westerns and a lunch stop at Palm Springs, the fashionable desert resort town whose former residents include Frank Sinatra, Cary Grant and Marilyn Monroe. We continue to Scottsdale in the afternoon. At our hotel, the Hilton Garden Inn, a selection of complimentary drinks awaits.
Day 4: Sedona - Oak Creek Canyon - Grand Canyon
A journey through Navajo Indian country takes us to the charming artist colony of Sedona, breathtaking Oak Creek Canyon and the Grand Canyon, one of the most awe-inspiring natural sights the world has to offer. This geological wonder is 277 miles long, 18 miles wide and one mile deep; a huge expanse of richly-coloured rock enclosing the silvery Colorado River far below. Optional helicopter or fixed wing flights, presenting stunning views of the Grand Canyon, may be pre-booked or arranged by our tour manager. Later in the afternoon, we make our way to Flagstaff, and the Woodlands hotel.
Day 5- 6: Las Vegas
Following a brief visit to the historic train depot at Williams, we proceed to Las Vegas, America's entertainment capital. By turns chic, glamorous and awe-inspiring, brash, excessive and outrageous, Las Vegas is certainly never boring. You don't need to be a high roller or slots wizard to enjoy this shimmering neon mirage in the heart of the forbidding Mojave Desert - there are shows that dazzle, from the famous Cirque du Soleil and the Beatles-inspired Love to the regular open-air spectacles, as each iconic hotel along the famous Strip tries to outdo the next in the extravagance of their performances. Some of the world's best restaurants may be found here, along with a vibrant nightlife, relaxing spa centres, immaculate golf courses and quirky museums dedicated to subjects as diverse as Liberace and atomic testing. Our chosen hotel is the Tropicana, located on the Las Vegas Strip - perfect for discovering an extraordinary, unique city which somehow manages to live up and down to its various reputations simultaneously and in enthralling style. Included for those who wish, is a short morning excursion to the Hoover Dam - a spectacular engineering achievement built in the 1930s. This huge dam is an awesome sight and its construction created Lake Mead, which is 100 miles long and 500 feet deep.
Day 7: Calico - Visalia
We cross the Mojave Desert en route to Calico, a once-thriving centre of silver mining, now an enjoyable reminder of the days when cowboys roamed its streets. Visalia is our destination, where we stay at the Marriott or Holiday Inn.
Day 8: Yosemite National Park
One of the world's great natural sanctuaries is Yosemite National Park, in the Sierra Nevada. With its craggy mountains, postcard-perfect lakes and verdant forests of dogwood, sugar pine, white fir and the awesome giant redwoods, Yosemite is endlessly photogenic - the reason why it so appealed to the great photographer and environmentalist Ansel Adams. Adams visited Yosemite for more than 50 consecutive years, recording luminously beautiful photographs of the park's dramatic landscapes, many of which have become instantly recognisable icons of the American wilderness. After a memorable day, we continue north to our hotel, the DoubleTree Modesto or the Park Inn by Radisson.
Day 9 - 10: San Francisco
Tony Bennett left his heart in San Francisco as many others have before and since. A sightseeing tour presents an orientation of this most cosmopolitan, liberal and attractive American city, including the Golden Gate Bridge, fashionable Nob Hill and vibrant Chinatown. We stay for two nights. The following day at leisure offers opportunities for relaxation or further exploration - perhaps a boat trip to notorious Alcatraz Island, where visitors may explore the remnants of the federal prison, learn about its famous inmates, discover the story behind the Native American occupation of 1969-71, or take a walk around the quaint district of Haight-Ashbury, so beloved of 'hippies', artists, writers and musicians, which became the crucible of 'counterculture' in the 1960s.
Day 11: Monterey - 17 Mile Drive - Carmel - Cambria
We travel south to Monterey, the old Spanish and Mexican capital of upper California, to appreciate its fine old town architecture, then proceed along the famous 17 Mile Drive, one of the loveliest coastal routes in the world. After lunch in the delightful town of Carmel, we continue south to Cambria by way of the curving Big Sur coastline, inspiration for Jack Kerouac's autobiographical novel, where the dramatic Pacific breakers crash against the rocky shoreline. Our hotel for the night is the Cambria Pines Lodge.
Day 12: Santa Barbara - Los Angeles
Santa Barbara, a town favoured by artists, with an appealing harbour promenade and palm-fringed streets, makes a memorable lunch stop en route from Cambria to Anaheim and our hotel.
Day 13 - 14: Los Angeles (Anaheim)
Anaheim is our laid-back base for the attractions of Los Angeles. On day 13 we visit first Olvera Street, a renowned Mexican marketplace located in the historic El Pueblo De Los Angeles before continuing to the Farmers' Market, an institution for food lovers and an ideal spot for lunch. This afternoon we go 'behind the scenes' at Warner Bros., the world's busiest motion picture and television studio. On the VIP tour you get an intimate view of Hollywood at work as you tour the back-lot streets, sound stages and sets.
Day 14 is at leisure to relax, or perhaps visit nearby Disneyland®. Every visiting generation has its own cherished Disney memories, relived amongst this magical theme park's myriad attractions and exhibits, which have grown steadily in scale and spectacle since it first opened in 1955.
Day 15 -16: Los Angeles - London
There is just enough time to enjoy a brief tour of three icons of popular culture - Hollywood, Sunset Boulevard and TCL Chinese Theatre (formerly Grauman's), where the handprints of the stars are famously immortalised - before we travel on to Los Angeles Airport in time for a direct, scheduled, overnight Virgin Atlantic flight to London Heathrow. On arrival at London Heathrow Airport you will be met and transferred to Titan transport for your journey home to your own front door.
Hand Picked By
We have been working withTitan for many years and our customers particularly love their VIP door-to-door travel service.
Abigail Limm
Latest from our Travel Experts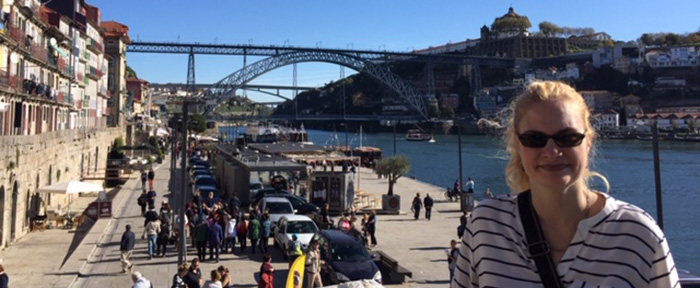 I have just returned from an amazing trip with Riviera Travel upon their Solo Tour 'Portugal's Douro Valley and Lisbon'....
Read More