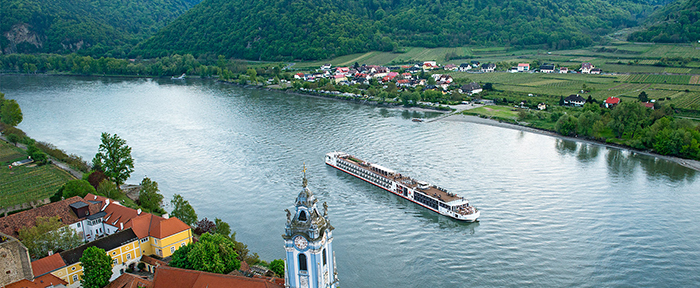 When I found out that I had been invited onto a Viking River Cruise I could not wait to get on board. I had really wanted to experience a River Cruise as I had not actually had the opportunity to travel on one before.
The Ship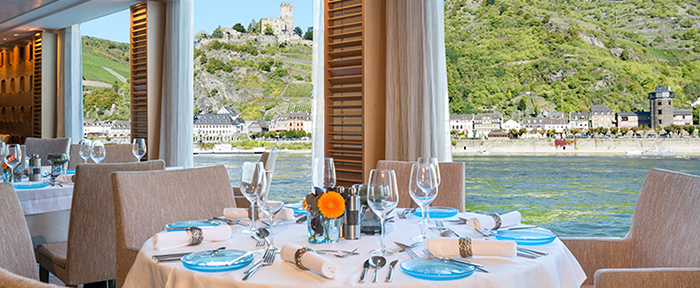 My trip started in Vienna day 4 of the 7night Danube Waltz Itinerary which had started in Passau and was due to end in Budapest via Bratislava. We were promptly and warmly welcomed on board, checked in and our luggage was taken straight to our cabin as we were shown to the restaurant for a much needed lunch.
My first Impressions of Viking Ve, was the actual size I now know why Viking call their River Cruisers Longships as from the outside it appeared elegant and sleek as it nestled neatly in the water, unobtrusive in such a historic setting as Vienna. The reception staff were all smiles as they smoothly checked us into our cabins after which we were taken to the restaurant for some much needed lunch, the waiting staff were very welcoming as we were made to feel as comfortable as possible as they talked us through the different lunch options which were many and varied along with our choices of Beveridge which came promptly. The restaurant as a whole had a great atmosphere, the tables were intelligently laid out and had a very smart but casual feel, it was ultimately very comfortable, friendly and had a reassuring ambiance.
The Sounds of Mozart & Strauss in Vienna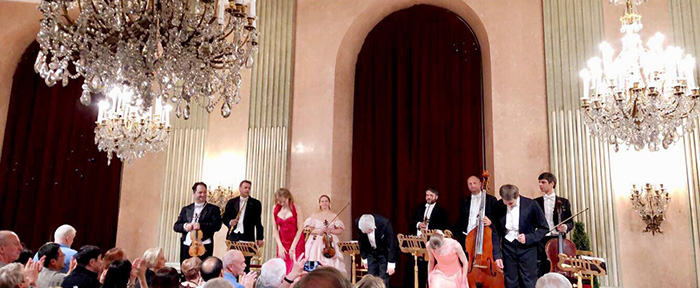 The afternoon we had at leisure to freshen up and relax after our journey, but we were all very much looking forward to our Evening Excursion provided by Viking to a Classical Music/Opera Recital of Mozart & Strauss to be held later that evening at the Palais Auersperg the home of the Vienna Residence Orchestra in Central Vienna, which prove to be sheer joy to be able to listen to beautiful music in such a palatial baroque surroundings, after which the short journey back due to our central location, to Viking Ve tucked up in our comfortable cabins we knew we would be waking up in Bratislava for yet another adventure in a yet another beautiful city.
Bratislava
After an excellent Breakfast we were once again on our way to one of the many included excursions the Walking tour of Bratislava, capital city of Slovakia which was made easy for everyone to listen to our guide using the very clever headset and earpiece supplied to everyone. Not knowing very much about Slovakia or Bratislava I was keen to come away with some knowledge and understanding, the Guide was comprehensive articulate with a sense of humour which added to the enjoyment of the tour, Bratislava was delightful, steeped in history with its very pretty architecture in the Renaissance, Gothic and Baroque style, its many narrow streets full of boutique's and various coffees shops.
Once back on board, we were due to set sail to start our Journey onwards that lunch time, with an estimated time of arrival of between 9/10pm that evening into Budapest, via locks and stunning scenery which can only be witnessed on a river itinerary such as the one we were so very lucky to be experiencing with Viking.
Budapest
We had been advised that our arrival into Budapest that evening was a highlight of the trip, as we would be sailing into this illuminated impressive city, as we got closer the cruise director advised us to go to the sun deck to witness us docking which was truly spectacular as we glided past the most beautiful floodlit Parliament building along with the spires of cathedrals.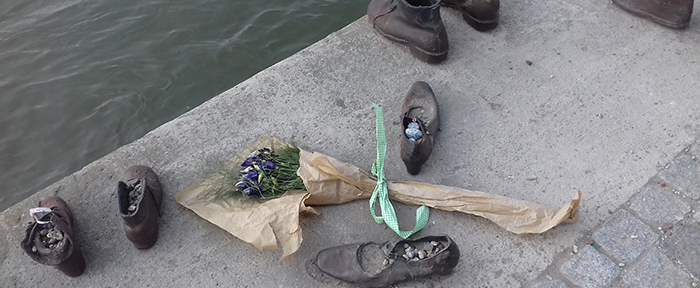 The next day was spent enjoying Budapest, with another excellent included city tour, showing us the sights and then in the afternoon we were at leisure to go into the city or could have experienced yet another optional tour. Due to our impressive docking at the Heart of the city at Chain Bridge it was very simple to walk straight into the city to visit some of the Monuments and shopping experience of Central Budapest. The very moving dedication to the Jewish lives lost during the war was exceptional 'The Shoes' were only a 5 minute walk from our docking location, and the heart of the centre to the impressive covered market 20 minute walk through the main shopping streets and elegant art deco cafes that Budapest is famous for.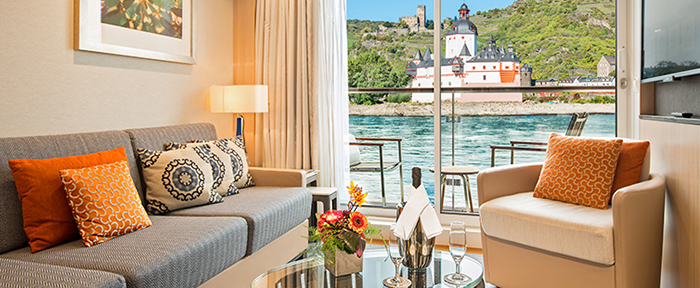 In summary, this was an excellent experience. The food and service on board were out of this world, I felt that our lower deck cabin was comfortable and intelligently designed to maximise the space & light, some of the other cabin types on offer are the Veranda cabins offering their own personal outdoor space with a seated balcony and the French Balcony which offers the outside into your own cabin. My personal favourite was the Veranda Suite which offers a living space as well as the well placed seated balcony.