I have just been fortunate enough to experience part of the 'Danube Waltz' cruise on board the 'Viking Ve' - longship and let's just say I was blown away by the whole experience.
From Vienna to Budapest
The full itinerary goes from Passau to Budapest (or in reverse). I however joined the ship in Vienna to sail to Budapest. We arrived onboard just in time for lunch and to say farewell to our colleagues who have just completed the first part of the journey.
From our meet & greet at the airport, the transfer to the ship, our very warm welcome aboard and check in - everything went so smoothly. In fact, in no time at all we were enjoying our first delicious meal while our luggage was being taken to our suites.
Food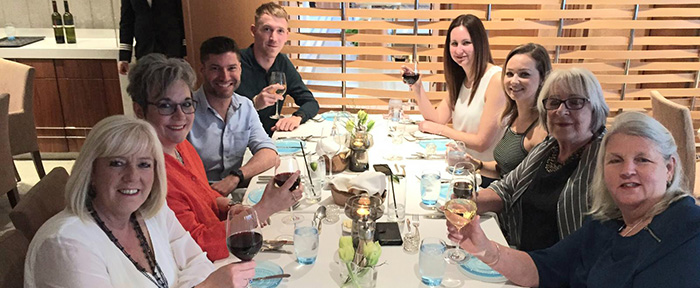 At this point I will mention the food – How the chefs aboard produce such fine dining from such a tiny kitchen is amazing – there is always three courses at both lunch and dinner as well as a buffet section with fresh salads and local cuisine, on the menu each meal there is a chefs special, which is a start, main & dessert from the region/city you are in – we had 'Wien Schnitzel' while in Vienna and of course 'Goulash Soup' for Budapest. The waiting staff, like all staff aboard, were so friendly and attentive and nothing was to much trouble.
Staterooms
Lunch over it was time to settle into our staterooms – we had a 'standard stateroom' on the lower deck 150sqft with a half picture window, I have to be honest, I was very apprehensive regarding these cabins before I travelled thinking they maybe dark and claustrophobic – how totally wrong I was – the room had open feel and with its light décor certainly did not feel confined.
Stunning Views upon the Sun Deck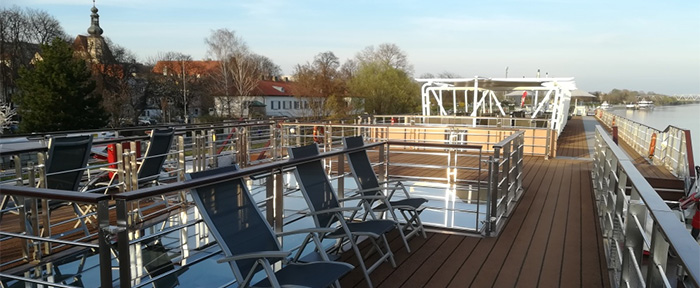 With so many areas around the ship where you can sit and just watch the world go by we spent very little time in our cabin, even though the ship was full during our stay never once were any of the areas crowded. For me personally, I loved to sit on the sun deck which gave me the opportunity of a 360 view, allowing me to view both sides of the river while sailing so I never missed a thing.
Vienna Concert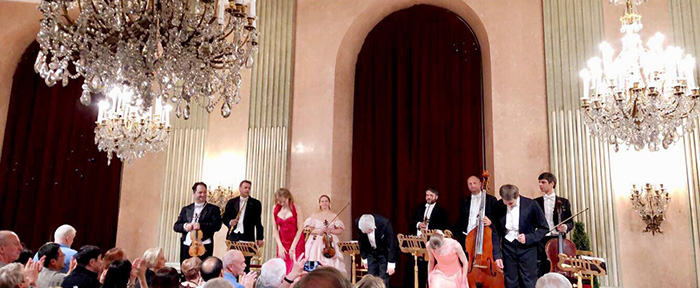 After we had had a short time to relax with a cuppa on the sun deck after our journey to Vienna (tea, coffee, cookies etc are always available from a self-serve bar situated on the upper deck) it was time to freshen up, change and attend a welcome meeting to explain to us about the next days excursions in Bratislava and our sailing time that evening from Vienna. Many of us were booked for early dinner to attend a concert of Mozart and Straus – however for those not going to the concert the sailing time is important because if you go ashore alone you must make sure your back in time for sailing. After dinner, we boarded our buses to drive the short distance into the centre of Vienna to attend a lively performance of music and dance, we were treated to the music of Mozart & Straus accompanied by either ballet or opera complete with a interval glass of fizz – a very enjoyable evening.
Bratislava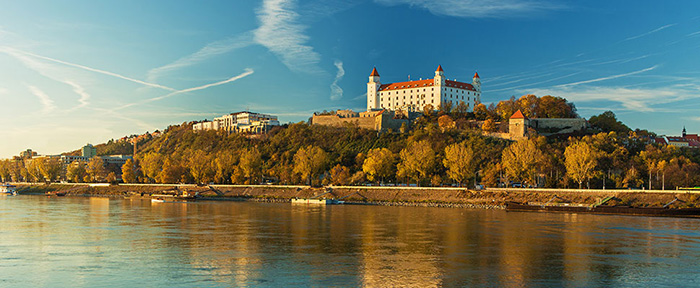 Sailing overnight we had arrived in Bratislava and after breakfast we headed out complete with our headsets and guide for a walking tour of the city. Our 8.30 start was great as it was a Sunday morning which meant the streets were still very quiet and this gave us a great opportunity to wander and take in the baroque architecture and listen to our guide explain the history of the city. Tour over, we had time to sit and enjoy a local coffee, do a spot of shopping before returning to the ship.
Sailing to Budapest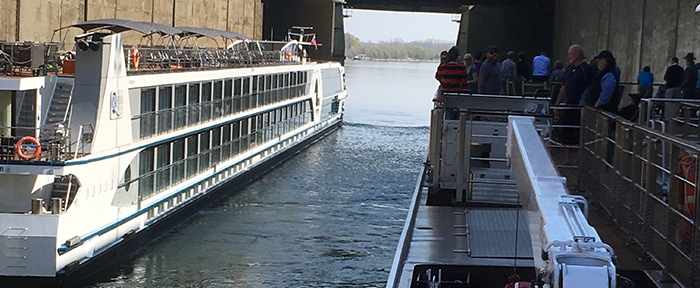 Back on board we settled in to sail on to Budapest. I was totally amazed at just how relaxing it was just sitting on the sun deck watching the countryside just flow past us, however the highlight of the afternoon for me was going through a lock ! – wow what a feat of engineering, we serenely sailed into the lock to join another river cruise ship and a couple of barge (there was still lots of room) and the lock gate closed behind us and ahead all we could see was a road and traffic crossing – within seconds we were going down and the walls were rising either side of us – in no time at all behind was what appeared to be a large wall ahead a massive bridge with doors below slowly opening allowing to just as serenely sail out, I found the whole event fascinating.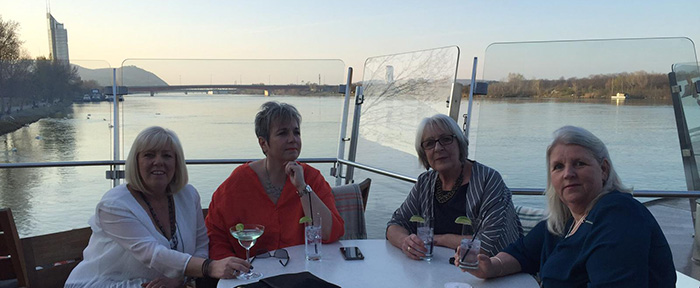 Still sailing on, we went to dinner and then we went to the lounge/bar area and joined in with 'name that tune' quiz which was great fun. Entertainment on river ships is very low key as people tend to sit and chat with new friends however there was usually live music from a resident singer and while docked local entertainers would come aboard and preform traditional dances or songs.
Budapest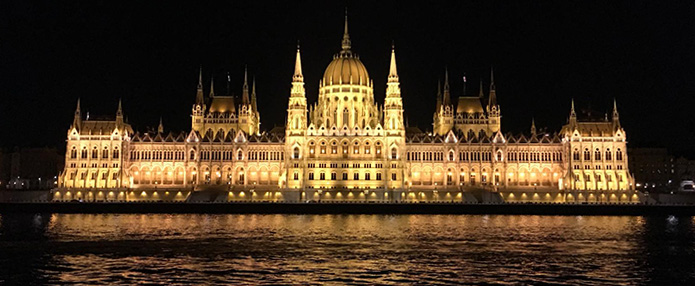 We were then informed that we were lucky enough to have pulled some sailing time and that we would be sailing into Budapest at 10.30pm which was a real spectacular experience – the lights twinkling on chain bridge, the magnificent Parliament building all lit up – the lights of both Buda & Pest on either side of you while we stood on the sun deck of the ship while the music from 'Chariots of Fire' played, this really was a truly memorable experience.
Then next morning we joined the ships excursion of a tour of both Pest & Buda – firstly we toured around 'Pest' driving down the wide streets which were once occupied by Soviet troops until the end of Soviet occupation in 1989.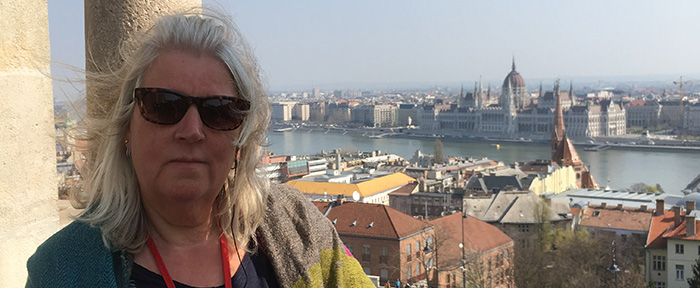 We then took time to gaze at Hero's square before driving on to cross the bridge to Buda side, past Gellert Hill and onto Buda's castle district to walk around the Fisherman's bastion and Matthias church and gaze across the river to the beautiful parliament building.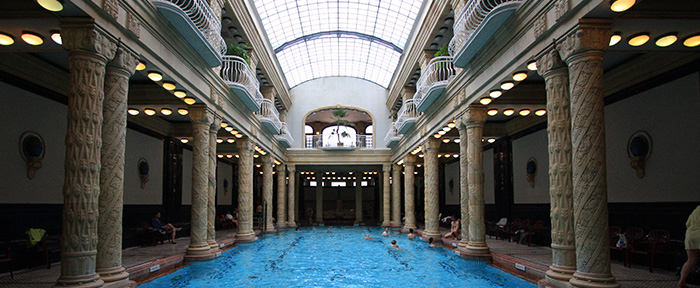 With free time in the afternoon four of us decided to take an optional excursion to the Gellert Thermal baths to bathe in the thermal waters and restore our vitality, in many hospitals throughout Hungary the baths are prescribed as cure for many rheumatic conditions. It was now time to return to the ship for our final dinner but first the captains cocktail party and we had a few farewell drinks before retiring to bed.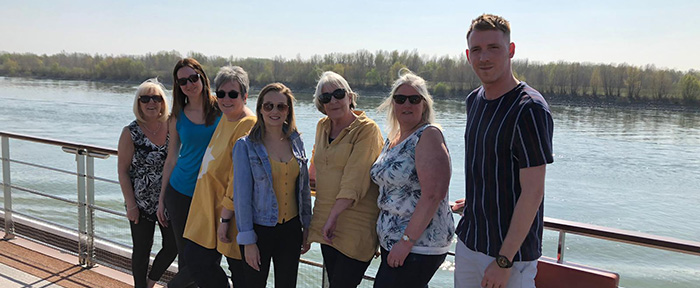 All to soon my brief glimpse at life on board a river cruise was over and for me I was very impressed – I think I have caught the bug because I would love to experience another river cruise but which one to choose?
The Rhine with its fairy-tale castles & medieval towns, the Danube for visits to Vienna & Budapest or why not continue to the Black sea cruising through dramatic scenery & ancient history. For the finest French cuisine & wine tasting it's the Rhone, then there is the unforgettable Douro with baroque palaces, tiny villages and the opportunity to sample the local port!
However you may wish to travel further afield - well there's the Russian Volga, China and the Yangtze, Pyramids of the Nile. The Mighty Mekong - oh so many memorable itineraries.