Rachel Jones | Manager
Phone Rachel: 01452 345100
Email Rachel: gloucester@milesmorgantravel.co.uk
Visit Rachel: 4 St Michael's Building, Eastgate Street, Gloucester, GL1 1PD
All about Rachel
I have been in the travel industry for 30 years, having worked for 6 years as a holiday rep, I've lived in several different countries and really experienced their culture and customs. After this, I came back to the UK and have been in the travel industry ever since. I love travelling and have been lucky enough to visit many amazing places including most recently Italy and Canada. Rome is one of my favourite places, you come across ruins and amazing sights around every corner! The history and the architecture are fascinating! Sorrento is absolutely beautiful as it is spread across cliff tops that overlook the bay of Naples. The old town is a warren of narrow streets that come alive at night. Italy is definitely on my list of places to go back to, as is Canada! I visited Toronto and Niagara Falls and can honestly say that Niagara is not just 'a waterfall' it is stunning and definitely gave me one of those 'wow moments' in life! Other favourite destinations for me are in America, particularly New York, Boston, New England and Florida. By total contrast I have been to Dubai a few times and really love the combination of luxury hotels, beaches, city life and culture. I recently cruised on the Royal Princess which I really enjoyed. From the breathtaking piazza style atrium to the dramatic views from the glass-floored sea walk Royal Princess has something for everyone. The extensive choice of dining options including the Crown Grill were of a very high standard and the evening shows were very impressive and entertaining. I'm always looking to broaden my horizons and want to experience as much of the world as I can.
I've just returned from a Titan 40th Anniversary trip with Jet Airways. We were travelling in India's Golden Triangle with Ranthambore national park...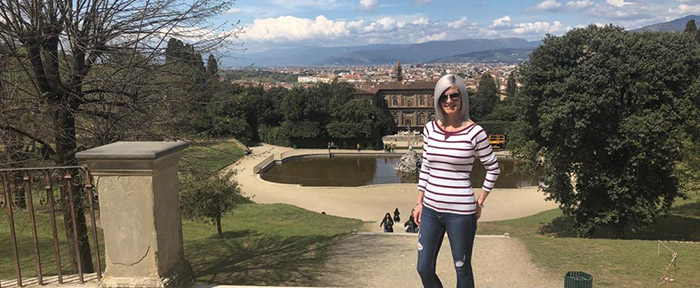 I absolutely love Italy and have always wanted to visit Florence, so when my son and daughter were home for the Easter break we decided to take a quick trip to this beautiful city and were not disappointed!...
Countries Rachel has visited
Italy
Canada
Croatia
Austria
France – Paris & beyond
Belgium – Bruges
Spain – Canaries, Balearics & Mainland
Tunisia
Portugal - Algarve
Turkey
Andorra
United Arab Emirates - Dubai & Abu Dhabi
India
USA – Florida, New York, Orlando and Boston
Egypt – Nile cruise & Cairo
Czech Republic - Prague
Cyprus
Israel
Jamaica
Netherlands - Amsterdam
Morocco