Overview
Jewels of Japan
Explore the unique and fascinating culture of Japan as you visit futuristic cities, imperial buildings and magnificent nature.
With a city tour of Tokyo, a visit to the iconic Mount Fuji and even the forward thinking city of Hiroshima, you'll really get to experience all aspects of Japan.
What's Included
International flights and current taxes
Domestic Transportation
Accommodation
All Meals
Touring guides & entrance fees
Tokyo city tour
Ascend Mount Fuji
Hiroshima City tour
Itsukushima Shrine
Himeji Castle
Kyoto
Full Itinerary
Day 1 & 2 - Tokyo
Today you join your overnight flight to Tokyo. On arrival the rest of the day is yours to explore at your leisure, or relax and unwind after your journey.
Day 3 - Tokyo
Today you'll enjoy a city tour of Tokyo, starting on the observation deck of the world's largest tower, 634 metre Skytree. For a change of pace, you will pay a visit to the tranquil ancient Buddhist Sensoji Temple. Get an insight into Tokyo's history as you visit the Edo-Tokyo Museum and explore the Imperial Palace.
In the evening you'll enjoy a relaxed dinner cruise on the Sumida River, where you can admire some excellent city vistas, while enjoying some delicious food.
Day 4 - Meiji Shrine
A relaxed start to the day, you will enjoy a morning wander around classic landscapes of the Hamarikyu Garden. You'll also pay a visit to the huge evergreen forest that encompasses the Shinto Meiji Shrine.
This afternoon you are free to explore at your own pace.
Day 5 - Fuji Five Lakes
A journey through the foothills of the iconic Mt Fuji brings you to the Fuji Five Lakes. With calm waters of the five lakes and a peaceful atmosphere, its hard to imagine they were formed by volcanic eruptions.
Next you'll try your hand at making traditional Japanese soba noodles, before you get to enjoy your creations for lunch. Continuing on, you'll head to Oshino Hakkai, a scenic area of ponds or crystal clear spring water, created by Mt Fuji's melting snow.
Day 6 - Mt Fuji
Today you'll ascend to the 5th Station of Mt Fuji, before returning to the beautiful Five Lakes region to explore Iyashi no Sato.
In 1966 it was destroyed by a landslide, but now the remaining thatched-roof housed have been transformed into an open air museum and craft village. This old Japanese village exhibits plenty go local and traditional handicrafts.
Day 7 - Kyoto
After being transferred to Mishima station, you'll hop on board the bullet train, and speed across the country to Kyoto.
Once the capital for a thousand years; today Kyoto is full of tranquil temples, silk-clad geisha and sublime gardens, leaving it with a legacy of ancient Japan. This afternoon you can explore all this and more, with an afternoon at leisure.
Day 8 - Kyoto
With a full day in Kyoto today, there is plenty to see and do, beginning with a visit to Kinkakuji Temple, also known as the Golden Pavilion. Continuing on, you'll visit Ryoanji, a Zen temple with a stunning dry landscape garden, followed by the 16th century Buddhist, Kiyomizu Temple.
In the afternoon you will visit a restored wooden townhouse, and learn the traditional Japanese arts of origami and calligraph, before witnessing Ikebana and enjoying a tea ceremony.
Day 9 - Himeji
Back on the bullet train, you'll make the trip to Himeji for the day. See the impressive feudal fort towering over the city, you may even recognise it as the backdrop to several major films.
After returning to Kyoto, you'll learn about the intriguing Japanese history of the geisha, before enjoying tea with either a maiko or geisha at a typical teahouse.
Day 10 - Hiroshima & Miyajima
Another bullet train ride will take you to Hiroshima & Miyajima. Beginning in Hiroshima, this vibrant and modern city has a very forward thinking outlook, despite its painful past. Take a minute to reflect on this as you visit the Peace Memorial Park and Museum.
Next you'll take a ferry to the holy island of Miyajima, where you'll see the Itsukushima Shrine. This UNESCO World Heritage Site is one of Japan's most recognisable, rising majestically out of the waters of the inland sea.
Day 11 - Osaka to UK
Unfortunately all good things must come to an end, you'll transfer to Osaka, before flying back to the UK.
Hand Picked By
Having experienced a Wendy Wu tour myself, I have since recommended them to many of my customers who have an equally amazing experience. Wendy Wu's extensive local expertise enables them not only to take you to lesser visited places, but give you those authentically Asian experiences. Be it learning a local craft, practicing an old tradition, dining on local flavours or meeting local families in their community, with Wendy Wu Tours you have the chance to really get under the skin of a country and its culture.
Carla Wilson
Latest from our Travel Experts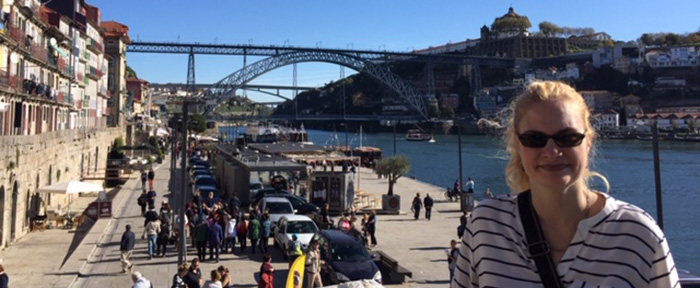 I have just returned from an amazing trip with Riviera Travel upon their Solo Tour 'Portugal's Douro Valley and Lisbon'....
Read More