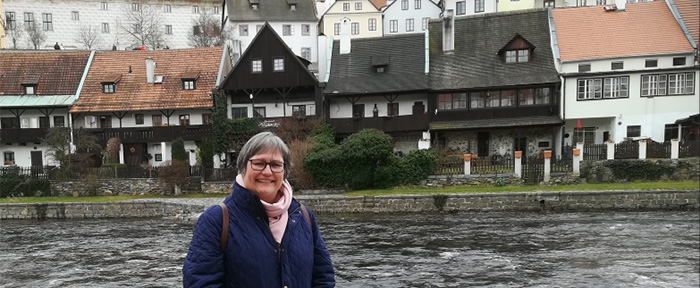 I felt very honoured to be offered this wonderful opportunity to sail from Passau to Vienna on the Viking Ve. This is a cruise I have sold to a number of my customers, due to the excellent value it offers. I was delighted to see for myself that they will have expectations exceeded.
However, there is always a slight element of doubt in my mind that the flights from Bristol are normally routed via Amsterdam with a change of aircraft. This was not a problem. Yes, there is quite a long walk from arrival from Bristol to the departure gate for Munich but it is all well sign posted. It would be a good idea however, for those with walking difficulties to arrange assistance.
Arrival to Passau
On arrival at Munich we were met and transferred on a luxurious Viking coach for the 2 hour drive to Passau. We had a very informative driver. Luggage is completely taken care of after it goes onto the transfer coach, and you next see it in your cabin.
We arrived at approximately 5pm in Passau and did not sail until lunch time the following day, giving you plenty of time to explore ashore should you wish. We were warmly greeted by the Cruise Director. A very charismatic English gentleman, David.
The Ship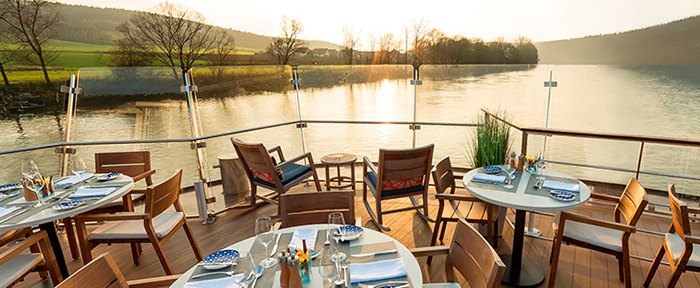 The ships decor is very contemporary in design. Very Scandinavian. The ship is very light and airy, with floor to ceiling windows in the lounge and restaurant. My favourite area was the Aquavit Terrace, a lovely outdoor terrace where you could eat and drink alfresco. There was also a large sun deck, where you could play mini golf, walk the 12 laps which equals 1 mile in readiness for the next 3 course meal! Alternatively, sit on the sun loungers and watch the glorious scenery as you sail by.
The welcome on board was extremely friendly. There was a good balance of nationalities on board. Mainly Americans and Canadians with a few Australians and English travellers.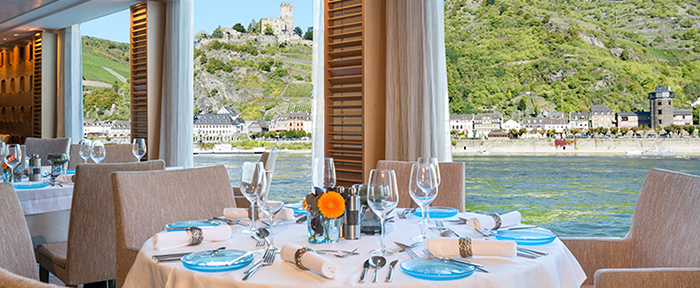 I was very impressed by how inclusive the cruise price is. You can also add on a silver drinks package which is £150 for the 7 night duration. This allows you to have any drinks outside of the complimentary wine and beer at lunch and dinner. With guided tours included and gratuities, this river cruise offers excellent value for money. It is as a tour but without all the packing and unpacking. Very relaxed and so well organised. The quality of everything, staff, food, local guides, local coaches, optional excursions, local entertainment were all exceptional.
If, you have any special dietary needs the Maitre D' hotel will come and see you at breakfast and go though your menu choices for the rest of the day, catering for all requirements.
Passau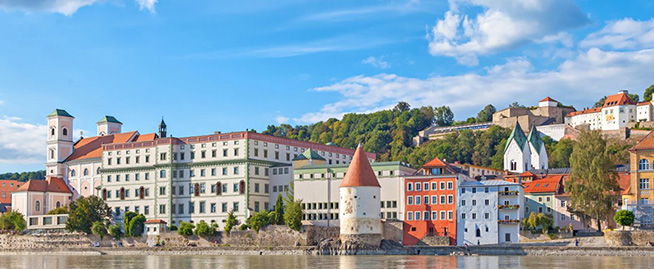 We had a walking tour of Passau in the morning, this is where 3 rivers join, the Danube, Inn and Ilz all meet..known as the City of Three Rivers. This was a pretty little town steeped in history. Passau has had its share of floods and the most recent in 2013 was one of the worst, rising in excess of 13 metres. The highlight of this walking tour was the beautiful mainly Baroque, but partially gothic, St Stephens Cathedral. The focal point of this town. Also a Dachsund museum in Passau too! There is a cycle track which starts in Passau and goes all the way to Budapest, apparently mostly flat!
Cesky Krumlov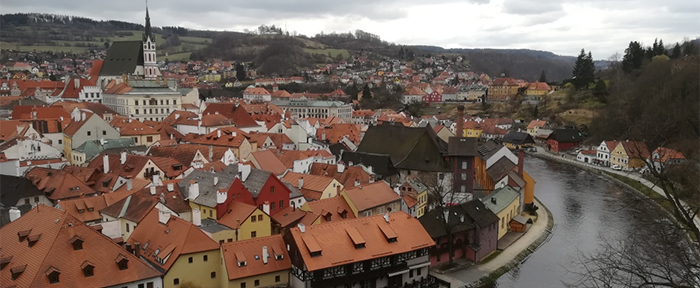 The highlight for me. Cesky Krumlov is a town on my list! I was delighted to visit. About 1.5 hours drive from where we docked in Linz. Cesky Krumlov is in the Czech Republic, ruled under the communist regime until November 1989.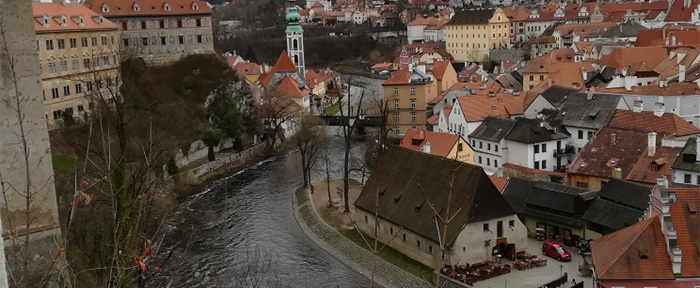 It is one of the most picturesque towns in Europe - a UNESCO World Heritage Site. It is a beautiful little town, dominated by the castle which towers above. There is also a beautiful park, which in summer months will be full of flowers. It has a very unusual theatre with seats that revolve. There are many performances which bring a lot of people to the town in the summer months. It offers many riverside restaurants, bars and some pretty shops. We ate in a very traditional restaurant, lots of pork, sauerkraut and dumplings!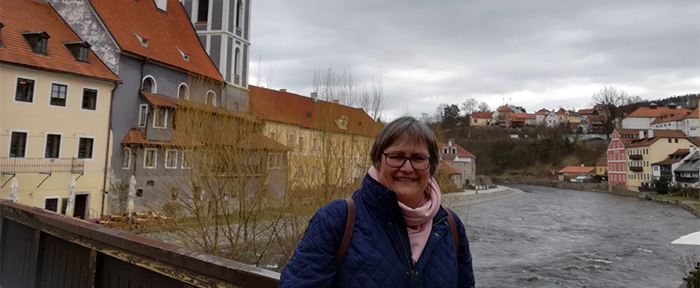 Wachau Valley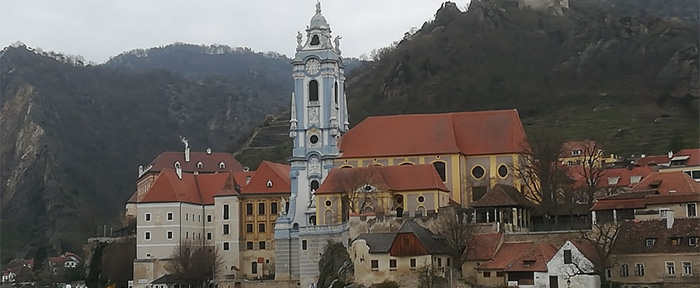 A beautiful sail through the very picturesque Wachau Valley. Lots of pretty Austrian towns, castles and vineyards. I didn't realise that Austria produced so much wine!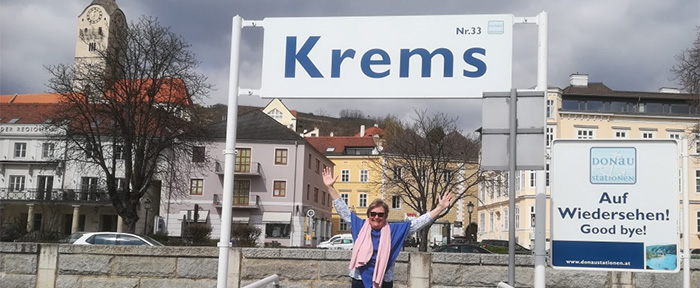 On arrival at Krems, we had an early lunch and then set off, about 10 minutes to the beautiful Gottweig Monastery. This is an exclusive tour to Viking, apparently no other River cruise company are offered this trip. We were greeted with homemade apricot juice or home made wine. Our tour guide was extremely knowledgable. There are currently 42 monks who live and are active in the Monastery. The Monastery is over 900 hundred, there have always been monks here. There is a lot of surrounding land that is owned by the Abbey. Funds come from leasing the land for hunting and fishing. Funds also come from tourism, and wine. They also offer 3-5 day spiritual retreats, religious and leadership training, youth programmes also play a large part. All of this helps towards the upkeep of the buildings.They are very active in the community, they work in schools, hospitals and prisons. The Parish Church also comes under the Monks care. The monks prayer 4 times a day, they are up at twilight, have midday prayers, evening prayers at dusk, then thank God for the day at the close of the day.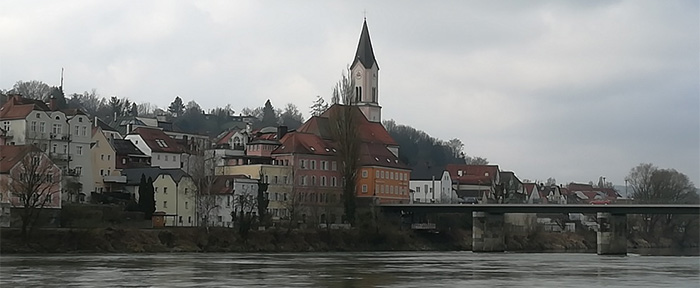 The views over the Wachau Valley and the Danube are beautiful from the Monastery. The blossom was out in full flower. A beautiful time to visit. This is the blossom of the apricot trees. Apricot Schnapps is also produced here!
In 1939 the Monks had to leave the Nazis moved in for 2 years and the Soviets moved in for 3 months. During this time the buildings were ruined. The locals helped to rebuild so the Monks could move back in.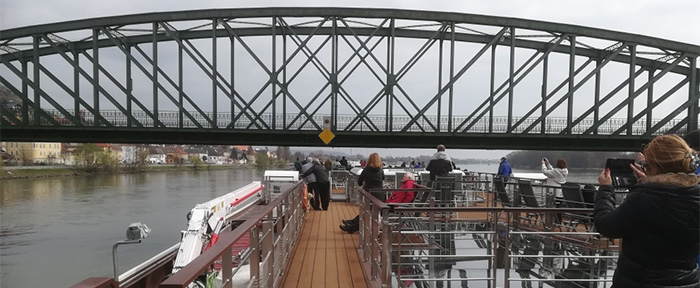 Back to the ship. Giving plenty of time to visit Krems. This is a very pretty little Austrian town. We set sail at 10pm for our final night on board, to arrive in Vienna for breakfast. Sadly, I had an early flight back to Gatwick so missed the tour in Vienna. A trip for another day!
Entertainment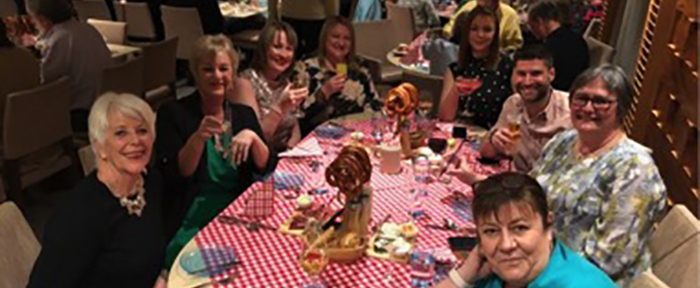 The entertainment on board was very low key but pitched perfectly.
There was an 'in-house band', who played in the bar each evening. There were also some local Austrian opera singers who came on board one evening. On our final night there was an Austrian Umpah band which was very lively and great fun, all the crew dressed in their Lederhosen and Dirndls.
Summary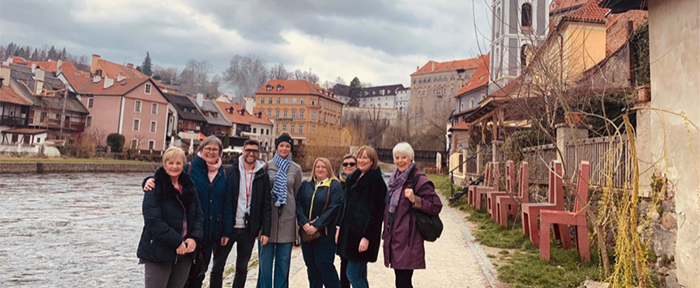 To sum up, this is a fantastic cruise company 'King of the River' who I look forward to selling with even more enthusiasm, sharing my knowledge of a truly 5* product. March was a very comfortable time of year to visit. I think anytime would be great, apparently, the Cruise Directors favourite time is the Christmas Market time of year. Very atmospheric!
Absolutely faultless, apart from too much wonderful food!