As a main agent for Viking, 13 of our Travel Specialists had the amazing opportunity to experience their top selling river cruise, The Danube Waltz with Viking. Half of the group embarked from Passau to Vienna, where the rest of the group travelled from Vienna to Budapest. Each of our specialists felt privileged to have been invited on such an iconic voyage along one of Europe's most popular rivers. Here are two of our specialists, Katie Tucker from our Taunton shop and Tom Mayo from our Gloucester shop, who have encapsulated the essence of this magical cruise on board the Viking Ve. All 13 of our specialists that sailed with Katie and Tom have also written their own individual travel diaries of their time on board, click here to read their blogs.
Here's Katie from Taunton and her experience from Passau to Vienna...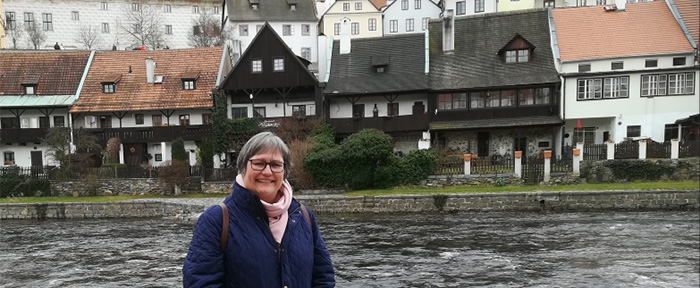 I felt very honoured to be offered this wonderful opportunity to sail from Passau to Vienna on the Viking Ve ship. This is a cruise I have sold to a number of my customers, due to the excellent value it offers. I was delighted to see for myself that they will have their expectations exceeded.
However, there is always a slight element of doubt in my mind that the flights from Bristol are normally routed via Amsterdam with a change of aircraft. This was not a problem. Yes, there is quite a long walk from arrival into Amsterdam to the departure gate for Munich, but it is all well sign posted. It would be a good idea for those with walking difficulties to arrange assistance.
Arrival to Passau
On arrival in Munich we were met and transferred on a luxurious Viking coach for the 2 hour drive to Passau. We had a very informative driver. Luggage is completely taken care of after it goes onto the transfer coach, and you next see it in your cabin.
We arrived at approximately 5pm in Passau and did not sail until lunchtime the following day, giving you plenty of time to explore ashore should you wish. We were warmly greeted by the Cruise Director. A very charismatic English gentleman, David.
There was a good balance of nationalities on board. Mainly Americans and Canadians with a few Australians and English travellers.
The Viking Ve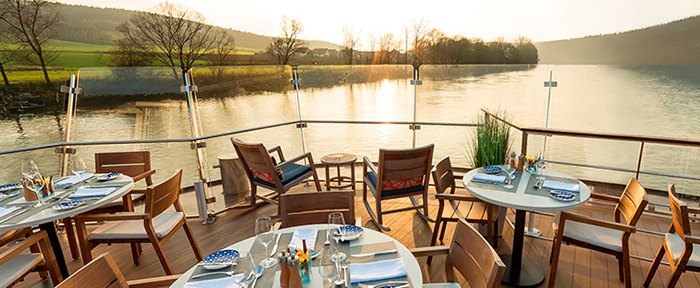 The décor on the ship was completely to my taste, it was quite Scandinavian with lots of light wood and it provided a simple, yet elegant and luxurious feel. The emphasis is very much on bringing the outside in and this is prominent ship. My favourite area was the Aquavit Terrace, a lovely outdoor terrace where you could eat and drink alfresco. There was also a large sun deck, where you could play mini golf, walk the 12 laps which equals 1 mile in readiness for the next 3 course meal! Alternatively, sit on the sun loungers and watch the glorious scenery as you sail by.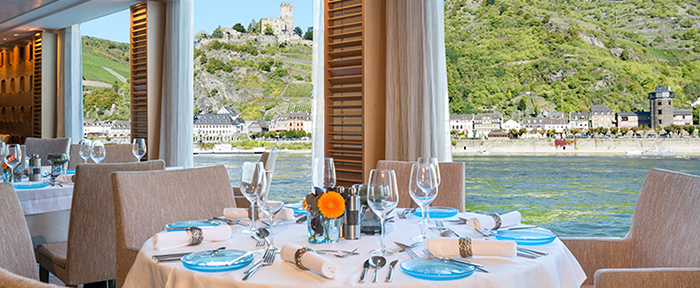 I was very impressed by how inclusive the cruise price is. You can also add on a silver drinks package which is £150 for the 7 night duration. This allows you to have any drinks outside of the complimentary wine and beer at lunch and dinner. With guided tours included and gratuities, this river cruise offers excellent value for money. It is like a tour, but without all the packing and unpacking. Very relaxed and well organised. The quality of everything; the staff, food, local guides, local coaches, optional excursions, local entertainment were all exceptional.
Viking will cater for all dietary needs, the Maitre D' will liaise with you at breakfast and go though your menu choices for the rest of the day.
Passau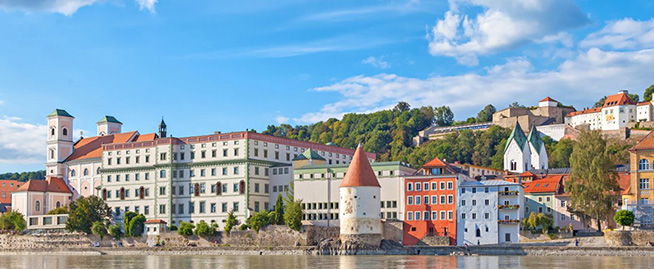 We had a walking tour of Passau in the morning. This is where 3 rivers join; the Danube, Inn and Ilz, known as the City of Three Rivers. This is a pretty little town steeped in history. The highlight of this walking tour is the beautiful St Stephens Cathedral, with mainly Baroque, but partially Gothic architecture. There is also the Dachshund museum, the Passau to Budapest cycle track which apparently is mostly flat!
Cesky Krumlov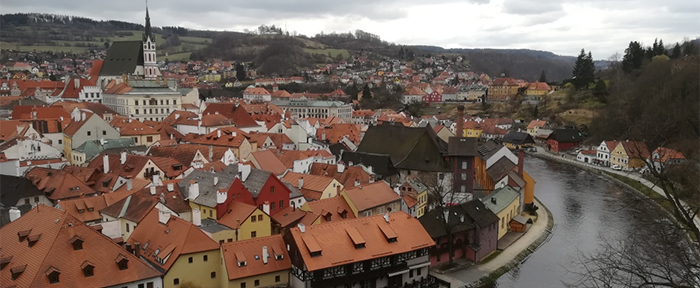 The highlight for me was Cesky Krumlov a town on my list and I was delighted to visit. About 1.5 hours drive from where we docked in Linz, Cesky Krumlov is in the Czech Republic. It was ruled under the communist regime until November 1989.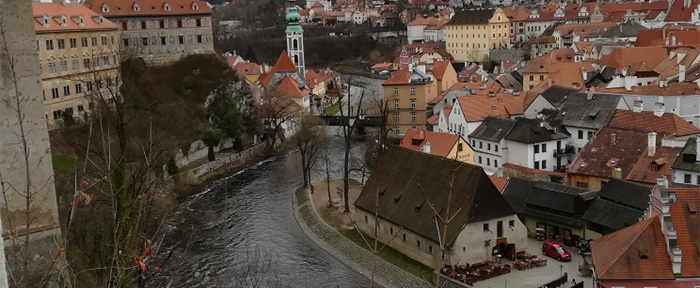 It is one of the most picturesque towns in Europe and a UNESCO World Heritage Site. It is a beautiful little town, dominated by the castle which towers above. There is also a beautiful park, which in summer months will be full of flowers. It has a very unusual theatre with seats that revolve, there are many performances which bring a lot of people to the town in the summer months. It offers many riverside restaurants, bars and some pretty shops. We ate in a very traditional restaurant, lots of pork, sauerkraut and dumplings!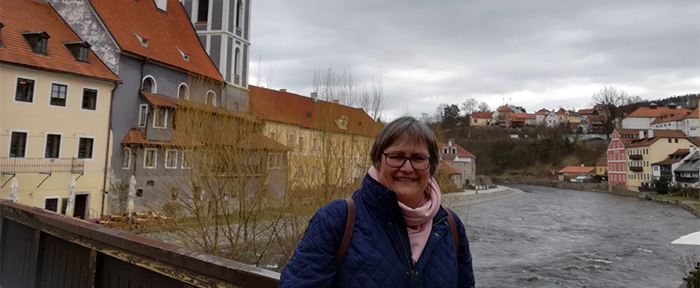 Wachau Valley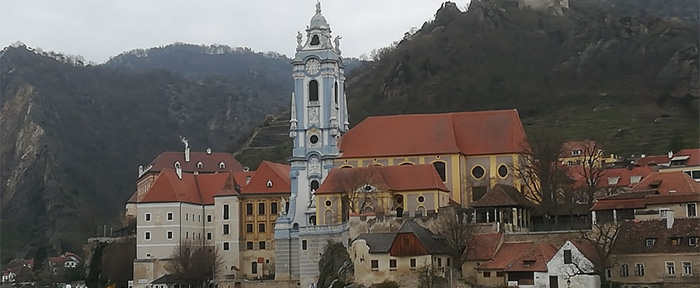 A beautiful sail through the very picturesque Wachau Valley, with lots of pretty Austrian towns, castles and vineyards. I didn't realise that Austria produced so much wine!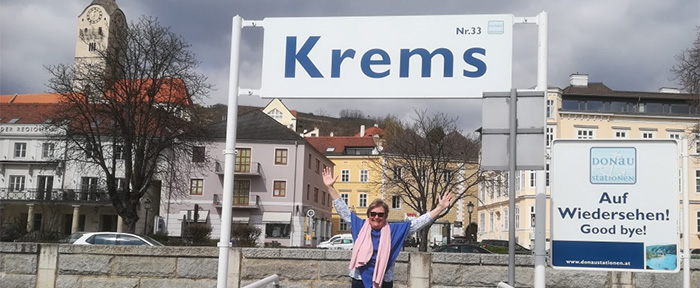 Upon arrival in Krems, we had an early lunch and then set off, about 10 minutes to the beautiful Gottweig Monastery. This is an exclusive tour to Viking, apparently no other river cruise company are offered this trip. We were greeted with homemade apricot juice or home made wine, our tour guide was extremely knowledgable.
There are currently 42 monks who live and are active in the Monastery. The Monastery is over 900 years old and there have always been monks here. There is a lot of surrounding land that is owned by the Abbey. Funds come from leasing the land for hunting and fishing, also from tourism, and wine. They also offer 3-5 day spiritual retreats, religious and leadership training, youth programmes also play a large part. All of this helps towards the upkeep of the buildings.They are very active in the community, they work in schools, hospitals and prisons. The Parish Church also comes under the Monks care. The monks pray 4 times a day, they are up at twilight, have midday prayers, evening prayers at dusk, then thank God for the day at the close of the day.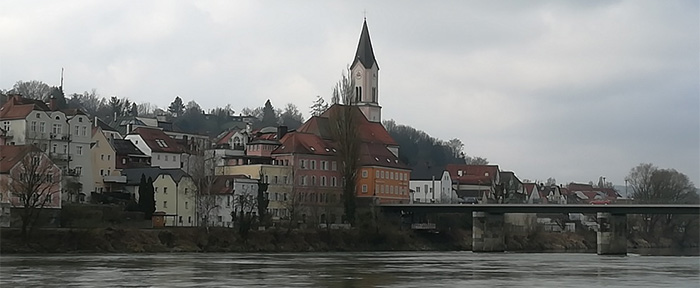 The views over the Wachau Valley and the Danube are beautiful from the Monastery. A beautiful time to visit as the blossom was out in full flower, this is the blossom of the apricot trees. Apricot Schnapps are also produced here!
In 1939 the Monks had to leave and the Nazis oocupied the area for 2 years also the Soviets for 3 months. During this time the buildings were ruined, the locals helped to rebuild so the Monks could move back in.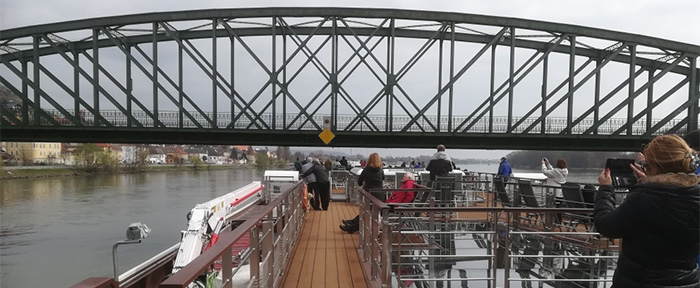 Back on the ship, we made our way to Krems, a very pretty little Austrian town with plenty of time to explore. We set sail at 10pm for our final night on board, to arrive in Vienna for breakfast. Sadly, I had an early flight back to Gatwick so missed the tour in Vienna. A trip for another day!
Entertainment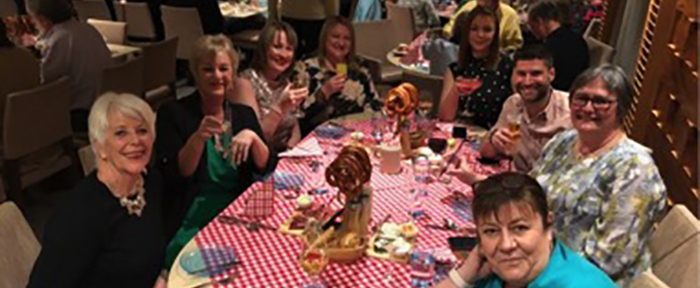 The entertainment on board was very low key but pitched perfectly.
There was an 'in-house band', who played in the bar area each evening. There were also some local Austrian opera singers who came on board one evening. On our final night there was an Austrian Umpah band which was very lively and great fun, all the crew dressed in their Lederhosen and Dirndls.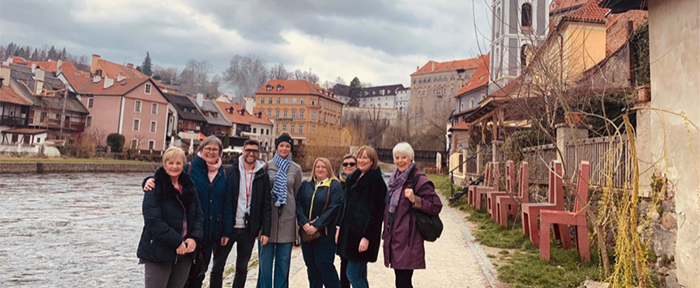 As One Journey Ends, Another Begins…
Here's Tom from Gloucester with his insight from Vienna to Budapest...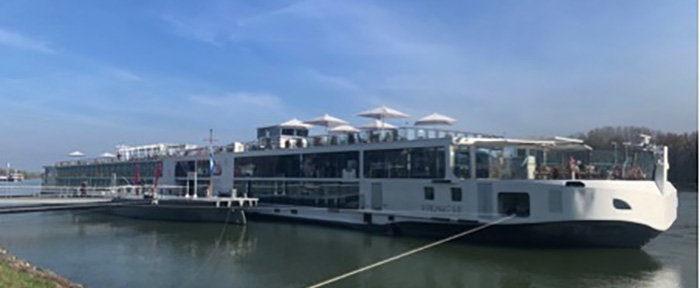 For four days at the end of March I was very fortunate to sail on the Viking Ve, for a short cruise from Vienna to Budapest. As soon as I stepped on board I was greeted by natural light from all angles and a fabulous view of the river Danube and I had only just entered the reception area!
Scenic Daytime Cruising
Even though I was sailing in late March the sun shone brightly throughout, which enabled me to make use of the fantastic sun-deck for the scenic daytime cruising. My favourite part of the outside space was the amazing Aquavit terrace, a quiet part of the ship at the rear where you could sit and enjoy a drink or even have a light lunch, if you preferred not to visit the main restaurant. It was always very quiet and for me a lovely escape.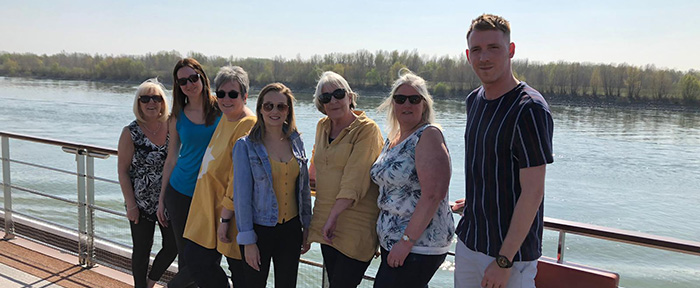 Food and Service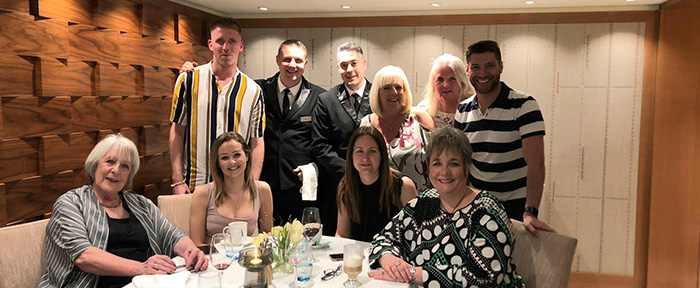 It's very difficult to have a 'favourite' part when the whole trip exceeds all your expectations… For me though the food and service in the restaurant was absolutely incredible and will live long in my memory.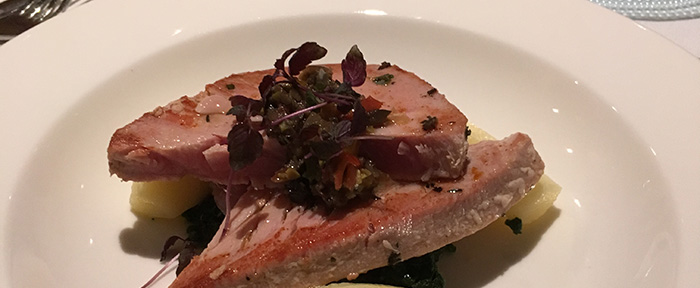 I enjoy my food and like to try new things but even if your tastes are more limited there would always be something for you to eat. Depending on which port we were visiting they would have all the local delicacies available for you to try, it made the restaurant feel very authentic and the freshness of the ingredients was exceptional. I can honestly say every meal was amazing!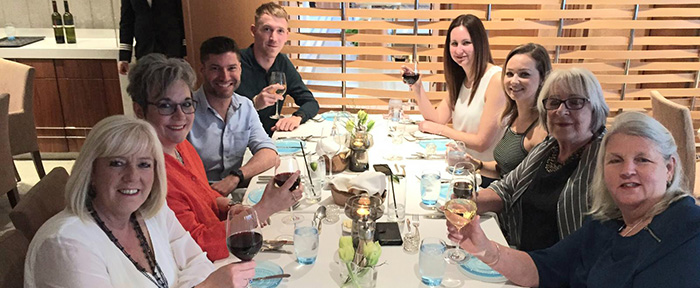 Vienna – The City of Music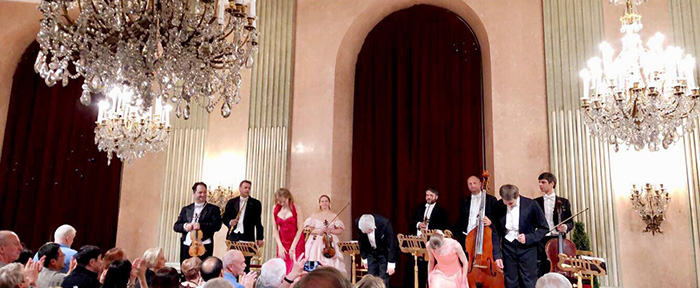 In terms of our itinerary we started off in the 'City of Music' Vienna, a stunning place steeped in history and visually magnificent. It's known as the one of the world's greatest centres of art, music and architecture and within minutes of exploring the city it's easy to see why! In the evening I was given the opportunity to watch my first ever operatic concert with the music of Mozart and Strauss and despite having reservations about it being to my taste I was wowed by the performance. The musicians, singers and dancers put on an unbelievable show and it was a fitting end to my time in Vienna.
Charming Bratislava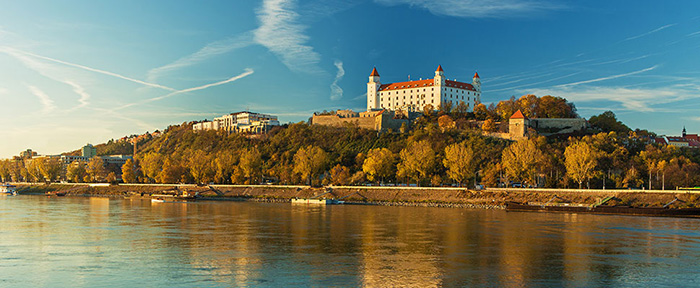 On day two we visited the Slovakian capital of Bratislava and we took a lovely walking tour of the charming Old Town. It's a fascinating place full of elegant mansions along cobbled streets but despite this it feels a little bit left in the past… This rustic feel however was fantastic to see especially in comparison to the grandeur of Vienna. Everything was really accessible and we comfortably saw the main highlights of the city during our time there. The real highlight of today though was the evening sail into Budapest, the city's lights danced on the Danube and the buildings glowed dramatically, the Hungarian Parliament Building and Chain Bridge uniting it all as the dramatic centrepiece.
Enchanting Budapest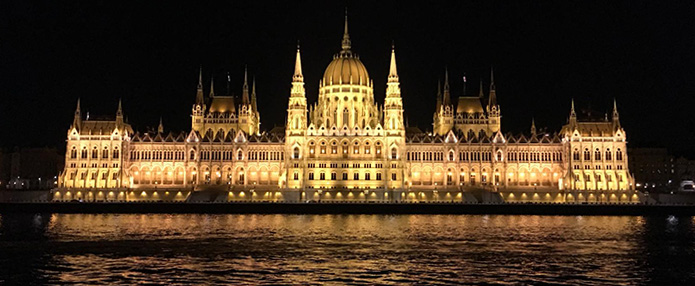 On day three, and our final day, we got the pleasure to explore Budapest, an enchanting capital that straddles the banks of the Danube. With historic and traditional Buda on one side and modern and cosmopolitan Pest on the other it was clear to see why Budapest is one of Europe's most rewarding cities. Viking also has an unbeatable landing spot right next to the iconic Chain Bridge so you couldn't be any closer to the action. A morning coach and walking tour of both sides of city was then followed by a trip to the Gellert Thermal Baths, a long soak and time to reflect on what had been a truly unforgettable trip from start to finish.